2018 Coffee Concert
** Tickets are no longer available to buy online, but there will be tickets available on the door from 10.30am **
Get your weekend off to a flying start with the Antara Duo as they take the lead for an exciting journey through the versatile sound world of the flute and harp. Be delighted by the charm and grace of CPE Bach and Mozart, exhilarated by fiery Latin-American dance rhythms and inspired by the epic story of the legendary King Herla, told in a specially commissioned piece by composer Robert Saxton.
Join us for a hot drink and a chat after the concert with award-winning tea and coffee from Miles of Porlock, blended only a few miles down the road from Dunster.
Time & Date:
11am, Saturday 26 May 2018
Venue:
Priory Church St. George, Church Street, Dunster, TA24 6SH
Who:
Antara Flute & Harp Duo
Ticket Prices:
£10.00 (non-tiered) to include Miles tea/coffee
Sponsored by:
Miles Tea & Coffee
Running Time:
One hour
Artist Biographies
Antara - Flute & Harp Duo
Thomas Hancox and Rachel Wick started playing together in 2007. They are now much in demand throughout the country, with performances at the Cheltenham and St Davids festivals, and in venues including the Wigmore Hall, Colston Hall, and Kensington Palace.
Beyond their recital work, they perform for Live Music Now, a charity that brings live music to those who would otherwise rarely, if ever, experience it, and also give educational performances for CAVATINA Chamber Music Trust and Wigmore Hall.
Last season, Thomas and Rachel have commissioned and premiered a work by Robert Saxton, kindly funded by the PRS for Music Foundation and the RVW Trust.
Thomas Hancox - Flute
Thomas Hancox studied in Oxford, Paris, and London, graduating summa cum laude. He now works as guest principal flute of the U.K.'s leading orchestras, including the London Philharmonic Orchestra, Royal Philharmonic Orchestra, Philharmonia Orchestra, Academy of St Martin in the Fields, English Chamber Orchestra, and English National Opera, amongst others. Solo and chamber work has led to collaborations with artists and ensembles including the Allegri and Sacconi string quartets and Trevor Pinnock.
View Thomas' website here.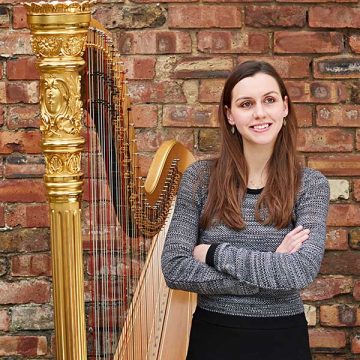 Rachel Wick - Harp
Rachel is a graduate of St. Peter's College, Oxford and the Royal Academy of Music. She has played with many of the country's leading orchestras including the Royal Philharmonic Orchestra, Bournemouth Symphony Orchestra, BBC Concert Orchestra, London Concert Orchestra and further afield with the Symphony Orchestra of India and Norwegian Opera. She has a large private teaching practice and also teaches harp at Berkhamsted School, the Junior Department of the Royal Academy of Music, and coaches for the National Children's Orchestra.
View Rachel's website here.