2019 A Tale of Two Centuries
** Tickets are no longer available to buy online, but there will be tickets available on the door half an hour before the concert starts – payment either by cash or cheque **
Time & Date:
7.30pm, Sunday 26 May 2019
Venue:
Priory Church of St George, Church Street, Dunster, TA24 6SH
Who:
Ludus Baroque with Mhairi Lawson
Ruth Slater | Violin
Julia Bishop | Violin
Jan Waterfield | Harpsichord
Mhairi Lawson | Soprano
Ticket Prices:
£20 / £15 / £10
Running Time:
Two hours (including interval)
Programme Info:
Italy's musical masters paint poignant pictures of betrayed heroines in works of great beauty and pathos from across the seventeenth and eighteenth centuries. Cantatas by Monteverdi, Strozzi and Händel, sung by international superstar soprano Mhairi Lawson, are heard alongside instrumental sonatas performed with passion and delicacy by the expert players of Ludus Baroque.
Sonata for two violins & harpsichord | Giovanni Fontana (1589-1630)
Lamento d'Arianna | Claudio Monteverdi (1567-1643)
Partite sopra La Monica | Girolamo Frescobaldi (1583-1643)
Serenata Opus 8 'Hor che Apollo' | Barbara Strozzi (1619-1677)
Sonata in D minor 'La Follia' | Antonio Vivaldi (1678-1741)
Armida Abbandonata | Georg Frideric Händel (1685-1759)
Artist Biographies
Ruth Slater
Ruth Slater is professor of baroque violin at the Royal Conservatoire of Scotland, where she also teaches in the BMus department in subjects including Historically Informed Performance Practice, Integrated Music studies and Teaching Musician. A chapter she wrote on 'Developing a Module that applies HIPP to Baroque Music' was recently published by Routledge. As a performer, Ruth regularly directs and leads both period and modern instruments ensembles, as well as playing and recording with groups such as the Gabrieli Consort and the Scottish Chamber Orchestra. She has worked extensively with many other ensembles including Amsterdam Baroque, Orchestra of the Age of Enlightenment, The Academy of Ancient Music and Dunedin Consort. As a soloist Ruth has appeared with many leading period instrument ensembles, both in the UK and abroad, including Florilegium, The Hanover Band, London Handel Orchestra and Ludus Baroque. She is also active as diploma examiner for ABRSM both in the UK and the Far East.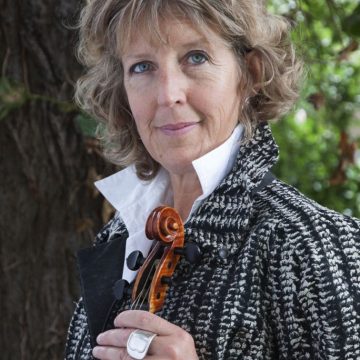 Julia Bishop
Julia Bishop discovered her love of Early Music during her studies at the Royal College of Music when one day she heard the Baroque orchestra being directed by the inspiring Cat Mackintosh. 30 years later Julia is recognised as one of the leading Baroque violinists of her generation, touring the world extensively and making numerous recordings with the period instrument orchestras of the UK including the London Classical Players, the Hanover Band, the Academy of Ancient Music, the English Concert, with whom she was a member for 6 years, and as leader and soloist with the Gabrieli Consort and Players. Her playing has been described in BBC Music Magazine as 'psychedelic'.
In 1997 Julia co-founded the ensemble Red Priest with recorder player Piers Adams and enjoyed 19 years of huge success touring Europe, the Far East and America and making 6 highly acclaimed CDs before handing over to the violinist Adam Summerhaze to spend more time at home with family.
Recently Julia has become increasingly popular for her lively and informative teaching on workshops and courses around the UK and abroad. She is head of the newly-formed Early Music department at Chichester University and also guest Baroque violin teacher at the Royal Academy and Royal College of Music.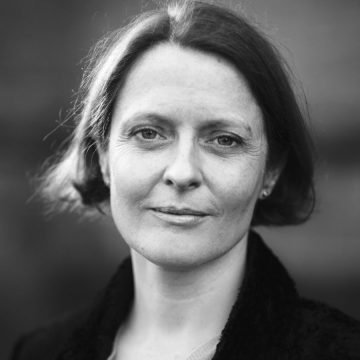 Jan Waterfield
Jan Waterfield studied music in Berlin, Cambridge and London. She teaches harpsichord and lectures at the Royal Conservatoire of Scotland in Glasgow. She is principal keyboard of Paul McCreesh's Gabrieli Consort & Players and with them tours widely throughout Europe and beyond, playing music ranging from 1585-1801.
She can also be found playing harpsichord or organ with the Academy of Ancient Music, the Scottish Chamber Orchestra, Ludus Baroque, His Majesty's Sagbutts and Cornetts and Dunedin Consort. She also plays piano accordion with the acoustic Klezmer Trio 'Kleyne Klezmer'.
'a performance of great warmth, with infectious solos from Jan Waterfield on harpsichord and organ' (BBC Music magazine)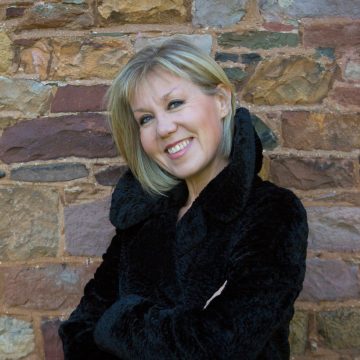 Mhairi Lawson
As a soloist Mhairi Lawson has performed in opera houses and concert halls worldwide including English National Opera, Les Arts Florissants, The Gabrieli Consort and The Scottish Chamber Orchestra, and with leading conductors such as William Christie, Sir Charles Mackerras, Paul McCreesh, John Butt, Richard Egarr, and Sir John Eliot Gardiner.
Recent and future highlights include performances of Handel's Messiah with the Hallé Orchestra and with the Bournemouth Symphony Orchestra, Purcell's King Arthur with the Academy of Ancient Music at the Barbican Centre, the title role in Semele with the City of Birmingham Symphony Orchestra, Galatea Acis and Galatea, Bach's B minor mass and Purcell's The Fairy Queen and King Arthur with the Gabrieli Consort, Venus Venus and Adoniswith the Dunedin Consort, Mozart's Mass in C Minor with the Scottish Chamber Orchestra, Haydn's Creation with the Arctic Philharmonic, a residency at the Carmel Bach Festival in the USA, a recital with lutenist Elizabeth Kenny as part of the St Magnus International Festival, and Mhairi continues her recital collaboration with Eugene Asti.
'A crystal stream of pure, limpid soprano sound…' (The Sunday Times)