Baby Concert
Time & Date:
10:30am, Friday 22 May 2020
Venue:
Tithe Barn, Priory Green, Dunster, TA24 6RY
Who:
Rachel Wick – Harp
Ticket Prices:
Adult tickets are £5 each; babies free!
Running Time:
One hour
Programme Info:
An informal concert for parents and carers and their babies up to 18 months old. Stimulate your baby's senses with the enticing sounds of Rachel's harp. Doors will open half an hour beforehand so you can ditch the buggy and grab a cup of tea or coffee before the performance starts. The concert will finish with nursery rhymes and singing games for all – requests from the audience are encouraged!
This concert is intended for babies aged 18 months and under. The concert is specifically devised to be appropriate for this age, so please consider the impact older children may have on the overall experience.
Artist Biographies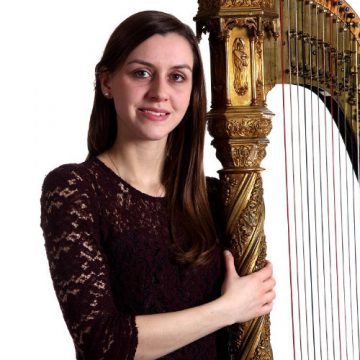 Rachel Wick
A graduate of the Royal Academy of Music, harpist Rachel Wick works regularly with children of all ages. She has given many concerts for the Bach to Baby concert series in London, as well as Concertini concerts for small children in Buckinghamshire. Alongside a large private teaching practice, Rachel teaches harp at Berkhamsted School and the Junior Department of the Royal Academy of Music and coaches for the National Children's Orchestra. Through the CAVATINA Chamber Music Trust she gives outreach concerts in primary schools, and has also worked with children with special educational needs through the charity Live Music Now.