Choral Workshop
Our online box office for this concert has now closed. Tickets will be available to buy on the door. Please note we can only accept payment by cash on the door.
Time & Date:
3-5.30pm, Sunday 29 May 2022
Venue:
Tithe Barn, Priory Green, Dunster, TA24 6RY
Who:
Rory McCleery | Dunster Festival Artistic Co-Director
Ticket Prices:
£15 including music and refreshments
Running Time:
Two hours, thirty minutes (including tea break)
Programme Info:
Join Rory McCleery, Dunster Festival's artistic co-director, for an afternoon workshop exploring musical treasures by JS Bach's illustrious predecessors alongside music by Johann Sebastian himself.
The workshop will begin with a gentle vocal and physical warm-up, and will end with an informal sing-through/performance of the music studied. The influence of his relatives is clear in the music of JS Bach, and Johann, Johann Christoph, Johann Michael and Johann Ludwig Bach, although now rather overshadowed, were renowned composers in their own right, writing choral music of extraordinary beauty and pathos.
Our workshop is open to all, although some prior choral experience and a familiarity with reading sheet music is recommended. Music will be provided on the day, and can also be sent out in advance as a pdf.
Artist Biographies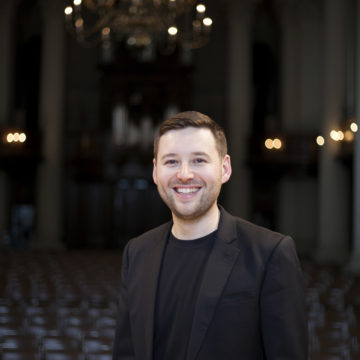 Rory McCleery
'McCleery elicits performances that glow with golden purity and soul' (The Scotsman)
'McCleery, a countertenor and academic as well as conductor, introduced the items with a lucidity combining boyish geniality with quite startling erudition.' (The Sunday Times)
Rory McCleery is the founder and Artistic Director of The Marian Consort and has conducted the ensemble in concert across the UK, Europe and North America. Under his direction, The Marian Consort has recorded extensively and become renowned internationally for its compelling interpretations of a wide range of repertoire, particularly the music of the Renaissance and early Baroque, but also works by contemporary British composers, and in 2017 was nominated for a Gramophone Award.
Rory began his musical training as a chorister at St Mary's Episcopal Cathedral, Edinburgh, subsequently reading music at St Peter's College, Oxford where he was both Organ and Domus Academic scholar before completing an MSt in Musicology with Distinction at The Queen's College, Oxford.
He is much in demand as a guest conductor, choral consultant and workshop leader, and has led workshop sessions, study days and singing courses across the UK, Germany, Spain and the USA, working with choirs of all ages and sizes in repertoire from the Renaissance to the present day. A vocal advocate for the music of the Renaissance to all audiences, Rory has written articles for both specialist academic publications and broadsheet newspapers, and appears regularly on BBC Radio 3.
Rory is also active as a countertenor, performing at venues including the NOSPR in Katowice, Edinburgh's Usher Hall, the Concertgebouw Bruges, and the Royal Chapel of the Palace of Versailles. He has appeared as a soloist for broadcasts on ARTE, Radio France, BBC Radio 3 and German, Italian and Polish national radio, and in concert and recording with The Dunedin Consort, Contrapunctus, The Monteverdi Choir, La Nuova Musica, The Rose Consort of Viols, The Orchestra of the Age of Enlightenment and The Berkeley Ensemble among others. As a singer, Rory has a particular affinity for new music: he features on The Night With's recent award-winning CD release and recently premiered a major new work from Graham Fitkin for countertenor soloist, orchestra and chorus.
Rory is a passionate believer in the importance of music education and singing for young people and is co-founder with his wife, the harpist Rachel Wick, of Dunster Festival in West Somerset.