Gala Concert
Our online box office for this concert has now closed. Tickets will be available to buy on the door. Please note we can only accept payment by cash on the door.
Download the concert programme
Time & Date:
7.30pm, Saturday 28 May 2022
Venue:
Priory Church of St George, Church Street, Dunster, TA24 6SH
Who:
The Marian Consort | Rory McCleery, Director
Tickets:
£20/£15/£10 (see seating plan in the picture gallery)
** We have a limited number of £1 tickets available for 8-25 year olds – first come first served! These tickets must be booked in advance and will not be available on the door.**
Running Time:
Approximately 2 hours (including a 20-minute interval)
Programme Info:
Motets by JS Bach and his family frame this sequence of sublime German baroque works performed by the intimate instrumental forces and 'impassioned … effortlessly elegant' voices of The Marian Consort. At the heart of the programme sits Heinrich Schütz's astonishing Musikalische Exequien: written at the height of the Thirty Years' War, a conflict which decimated much of German-speaking Europe and left more than eight million people dead or displaced, this intensely human requiem combines the austere ritual of ancient chant with all of the colour, urgency and energy of baroque solo singing.
Artist Biographies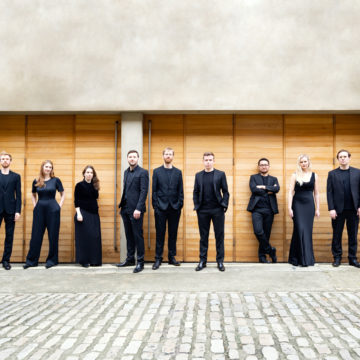 The Marian Consort
The Marian Consort is an award-winning vocal ensemble that presents bold and thrilling performances across the UK, Europe and North America. Led by founder and director, Rory McCleery, the group is composed of the very best singers in a flexible, intimate ensemble, allowing clarity of texture and subtlety of interpretation that illuminates the music for performer and audience alike. TMC features regularly on BBC Radio 3, and has released twelve recordings to critical acclaim, praised for 'precision and pellucid textures' (The Times).
The Marian Consort performs music from the fifteenth century to the present day, with a focus on bringing to light and championing lesser-known works by composers such as Vicente Lusitano, Raffaella Aleotti, and Jean Maillard. New music is of vital importance to TMC, and in recent years it has commissioned Dani Howard, Cheryl Frances-Hoad, Gabriel Jackson, Donna McKevitt, and Ben Rowarth. TMC regularly collaborates with ensembles, including the Carducci Quartet, Berkeley Ensemble, and Illyria Consort.
The Marian Consort is a pioneer of projects which move beyond the confines of the traditional concert, most notably 'Breaking the Rules', a staged concert-drama based on the life and crimes of Carlo Gesualdo called 'daring and vivid' by The Guardian. Other highlights include a debut at the BBC Proms in 2021; performances in the Bascule Chamber underneath London's Tower Bridge; the premiere of Dani Howard's 'Unbound' at Three Choirs Festival; and a Wigmore Hall recital presented in partnership with BBC Radio 3. The Marian Consort will make its debut tour of Japan in 2023.
marianconsort.co.uk
@marianconsort