Gong Bath
Time & Date:
5pm, Saturday 23 May 2020
Venue:
Tithe Barn, Priory Green, Dunster, TA24 6RY
Who:
Alexandra Simson | Story-teller and sound healer
Ticket Price:
£15 including refreshments
Running Time:
One hour
Info:
Relax and re-energise in Story-Well's Gong Space
Dating back thousands of years, the Gongs are powerful instruments played to release stress and foster personal transformation.  Producing frequencies that can help resolve emotional, physical or spiritual discord, the sacred sounds of the Gongs release 'dis-ease' bringing us back into vibrational re-alignment and enabling us to rediscover our natural sense of energy, balance and harmony.
What happens during a gongbath?
The most important thing is that you are comfortable. Bring your (yoga) mat, blanket, pillow, eye-mask and anything else that will help you to relax comfortably.
Take your spot – lie back (or let us know if you prefer to sit in a chair).
Relax and enjoy the soothing sounds of the gongs and other instruments.
After your Gongbath enjoy sipping a spiced caffeine-free tea with a chocolate treat as you peacefully come back to earth.
Doors open at 4.45pm for a prompt 5.00pm start.  Please arrive on time.  Sorry, no admittance once the gongbath has started.
Please note that gongbaths are not suitable for anyone who's had surgery within 6 weeks of the event.
Please feel free to contact Alex directly by email (alex@story-well.co.uk) with any questions.
Places are limited so be sure to book your spot early.
"Thank you so much for last night's gongbath. The Tithe Barn was just magical and I really felt the benefit.  Best night's sleep I've had in a long while." Julie
Artist Biographies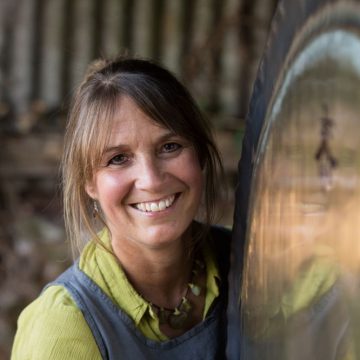 Alexandra Simson
Alexandra Simson is the founder of Story-Well. She's been working with sound and stories in the service of wellbeing for over twenty years. More recently she has trained with the College of Sound Healing and become a Gong Practitioner, bringing monthly gongbaths to communities across West Somerset and beyond.