Late Night Concert
Time & Date:
10.00pm, Saturday 27 May 2023
Venue:
Tithe Barn, Priory Gardens, Dunster, TA24 6RY
Who:
Maya Youssef (qanun)
Tickets:
£15
Our online box office has now closed. Tickets will be available on the door (cash only).
Running Time:
Approximately 1 hour
Programme Info:
Artist Biographies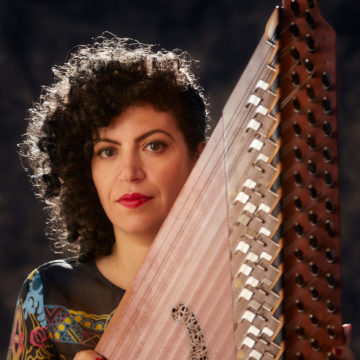 Maya Youssef (qanun)
Hailed as 'queen of the qanun', Maya Youssef is a globally renowned, and award-winning qanun player and composer from Syria. Born in Damascus, as a result of the war in her home country Maya arrived in the UK in 2012, under the UK Government's Tier 1 visa scheme, endorsed by Arts Council England as an Exceptional Talent. Since then, Maya has pushed the boundaries of the qanun (a 78 stringed plucked zither traditionally played by men) and has performed at the South Bank, BBC Proms, Royal Albert Hall, The Barbican, Shakespeare's Globe and WOMAD Festival.
Maya has collaborated with Damon Albarn (Blur/Gorillaz) and recorded for 'The Beatles & India' documentary in Abbey Road Studios. Her debut album, Syrian Dreams (a prayer for peace), was produced by the esteemed Joe Boyd (Nick Drake et al) and released by Harmonia Mundi. The album received critical acclaim from the media. "Exquisite…a powerful homage, twists Arabic music cliches", The Guardian. "An album of skill and power…a dizzying sweep of genres from flamenco to jazz. A transportive cinematic listen" The Musician Magazine. Syrian Dreams won the German Record Critics' Award and Songlines Music Award. This led to many UK and international sold-out concerts.
Maya was awarded a PRS Women Make Music Grant and an Arts Council England Project Grant towards recording her second album, Finding Home'which was released March 25th, 2022. The album received 5-star reviews from international and UK press and was nominated for the prestigious German Record Critics' Award. In September 2022 Finding Home was no.1 in the Transglobal World Music Chart, In December it was named as one of Songlines' 10 Best Albums of 2022.
Alongside the composition and performance aspects of her career, Maya is also a consummate and skilled educator, leading her own online qanun academy with students all over the world, contributing to a wide variety of learning and participation opportunities through talks, lectures workshops and broadcasts.
Maya's compositions, recordings, performances, and her life story have been the subject of extensive reviews, and she is a frequent broadcaster. Her website, mayayoussef.com, provides a comprehensive archive, as well as more detailed biographical information, audio and video.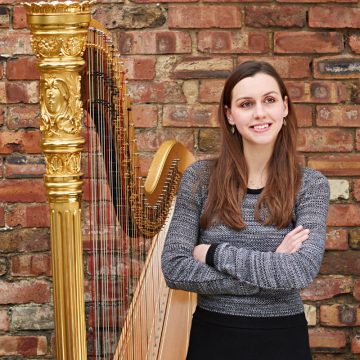 Rachel Wick (harp)
Rachel is a graduate of St. Peter's College, Oxford and the Royal Academy of Music. She plays with many of the UKs leading orchestras including the London Philharmonic Orchestra, BBC Concert Orchestra, Royal Philharmonic Orchestra and Bournemouth Symphony Orchestra. She also plays a nineteenth-century Erard harp, most recently with the Gabrieli Consort and Orchestre Révolutionnaire et Romantique. Rachel has performed live on stage with the English rock band Procol Harum and for Quincy Jones' 85th birthday concert at the O2 Arena.
Rachel is also an active chamber musician, appearing at festivals and music clubs across the UK. She has recorded with New College and Christ Church Cathedral Choirs, Oxford and has broadcast live on Classic FM from Buckingham Palace with Her Majesty's Choir of the Chapel Royal, St James's Palace. Other film and session work includes playing on Howard Goodall's album Inspired, appearing on screen in Mission Impossible – Rogue Nation, being filmed for Google's 'Inside Abbey Road' virtual online tour, and playing in the session orchestra for ITV's Sound of Music 'Live'.
Alongside a large private teaching practice, Rachel teaches harp at Berkhamsted School and the Junior Department of the Royal Academy of Music, and coaches for the National Children's Orchestra.
In May 2018 she was made an Associate of the Royal Academy of Music. She is the co-director of the Dunster Festival.